Posts for category: Oral Health
By Smile By Stone
February 13, 2020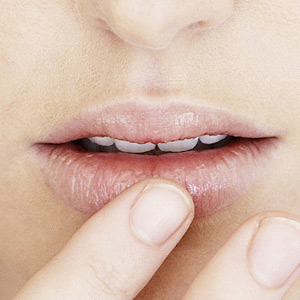 If you've noticed redness or small skin cracks at the corners of your mouth, you may have a common infection known as perleche or angular cheilitis. Depending on its cause, there are ways to treat the redness and skin cracking to lessen your discomfort.
The term perleche comes from the French word "lecher," meaning to lick. This is derived from the tendency of perleche patients to constantly lick the area to ease irritation; unfortunately, this also helps perpetuate the inflammation. Once the skin is broken the area is commonly infected by yeast called candida albicans.
Initially, perleche may arise from a variety of sources, most of them locally from either inside or around the mouth, although it can be triggered by a general body infection or disease like diabetes or cancer, or vitamin or iron deficiencies. Inside the mouth reduced saliva flow, tissue inflammation under a rarely cleaned denture (denture stomatitis), pressure on the mouth corners caused by a collapsed bite due to missing teeth and similar conditions can elevate the risks for infection. Around the mouth wrinkling or "marionette lines," deep lines that extend from the mouth to the chin due to aging or environmental exposure, can contribute to crack formation. Drooling during sleep or as a result of orthodontic treatment is also a contributing cause.
The main focus of treatment for perleche is to bring any infection under control. This can be accomplished with a course of oral or topical antifungal (yeast-attacking) medication. If the infection has spread into the mouth or throat we might then prescribe a troche, a small lozenge designed to dissolve, which you would rinse with and then swallow to affect other portions of the mouth. Steroid or zinc oxide ointments applied directly to the skin can control inflammation and serve as a barrier agent with antifungal properties to promote healing.
If the cause is more related to dental problems (ill-fitting dentures or missing teeth), then it's important to have these addressed and treated. You may also consult a dermatologist for treatments to lessen wrinkling around the mouth that might also contribute to chronic cases of perleche.
If you would like more information on cracked mouth corners, please contact us or schedule an appointment for a consultation. You can also learn more about this topic by reading the Dear Doctor magazine article "Cracked Corners of the Mouth."
By Smile By Stone
February 03, 2020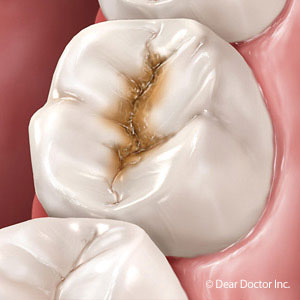 Tooth decay doesn't occur out of thin air, but is the end result of bacteria feeding on sugar, multiplying and producing acid. High acidity erodes tooth enamel and creates an environment for cavity development.
Modern dentistry can effectively treat cavities and often save the tooth from further damage. But you don't have to wait: You can reduce your chances of cavities by managing risk factors that contribute to decay.
Here are 4 top risk factors for tooth decay and what you can do about them.
Poor saliva flow. Saliva neutralizes acid and helps restore minerals to enamel after acid contact. But your enamel may not have full protection against acid if you have diminished saliva flow, often due to certain medications. You can help increase your saliva by consulting with your doctor about drug alternatives, drinking more water or using a saliva boosting product. Smoking can also inhibit saliva, so consider quitting if you smoke.
Eating habits. High sugar content in your diet can increase bacterial growth and acid production. Reducing your overall sugar consumption, therefore, can reduce your risk of decay. Continuous snacking can also increase your decay risk, preventing saliva from bringing your mouth back to its normal neutral pH. Instead, limit your snack periods to just a few times a day, or reserve all your eating for mealtimes.
Dental plaque. Daily eating creates a filmy buildup on the teeth called dental plaque. If not removed, plaque can then harden into a calcified form called calculus, an ideal haven for bacteria. You can help curtail this accumulation by thoroughly brushing and flossing daily, followed by dental cleanings at least every six months. These combined hygiene practices can drastically reduce your cavity risk.
Your genetics. Researchers have identified up to 50 specific genes that can influence the risk for cavities. As a result, individuals with similar dietary and hygiene practices can have vastly different experiences with tooth decay. Besides continuing good lifestyle habits, the best way to manage a genetic disposition for dental disease is not to neglect ongoing professional dental care.
If you would like more information on managing your tooth decay risk factors, please contact us or schedule an appointment for a consultation. You can also learn more about this topic by reading the Dear Doctor magazine article "What Everyone Should Know About Tooth Decay."
By Smile By Stone
January 24, 2020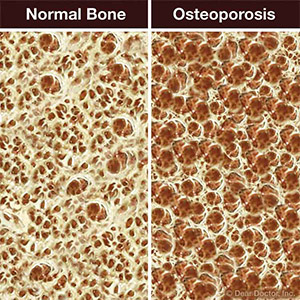 Osteoporosis is a major health condition affecting millions of people, mostly women over 50. The disease weakens bone strength to the point that a minor fall or even coughing can result in broken bones. And, in an effort to treat it, some patients might find themselves at higher risk of complications during invasive dental procedures.
Over the years a number of drugs have been used to slow the disease's progression and help the bone resist fracturing. Two of the most common kinds are bisphosphonates (Fosamax™) and RANKL inhibitors (Prolia™). They work by eliminating certain bone cells called osteoclasts, which normally break down and eliminate older bone cells to make way for newer cells created by osteoblasts.
By reducing the osteoclast cells, older bone cells live longer, which can reduce the weakening of the bone short-term. But these older cells, which normally wouldn't survive as long, tend to become brittle and fragile after a few years of taking these drugs.
This may even cause the bone itself to begin dying, a relatively rare condition called osteonecrosis. Besides the femur in the leg, the bone most susceptible to osteonecrosis is the jawbone. This could create complications during oral procedures like jaw surgery or tooth extractions.
For this reason, doctors recommend reevaluating the need for these types of medications after 3-5 years. Dentists further recommend, in conjunction with the physician treating osteoporosis, that a patient take a "drug holiday" from either of these two medications for several months before and after any planned oral surgery or invasive dental procedure.
If you have osteoporosis, you may also want to consider alternatives to bisphosphonates and RANKL inhibitors. New drugs like raloxifene (which may also decrease the risk of breast cancer) and teriparatide work differently than the two more common drugs and may avoid their side effects. Taking supplements of Vitamin D and calcium may also improve bone health. If your physician still recommends bisphosphonates, you might discuss newer versions of the drugs that pose less risk of osteonecrosis.
Managing osteoporosis is often a balancing act between alleviating symptoms of the disease and protecting other aspects of your health. Finding that balance may help you avoid future problems, especially to your dental health.
If you would like more information on osteoporosis and dental care, please contact us or schedule an appointment for a consultation. You can also learn more about this topic by reading the Dear Doctor magazine article "Osteoporosis Drugs & Dental Treatment."