Posts for: December, 2020
By Smile By Stone
December 21, 2020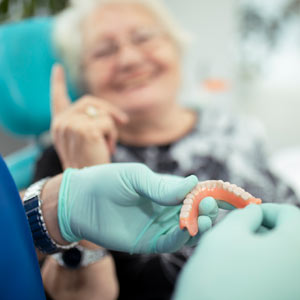 Although teeth are quite durable, we can still lose them—even all of them—to disease or injury. The good news, though, is that we have effective ways to restore teeth after they're lost. One of these, the removable denture, has given people their teeth back for several generations. And with recent advances in technology, today's dentures are even better.
Although more advanced, today's dentures share the same basic structure as those from a century ago: prosthetic (false) teeth set in a plastic resin colored to resemble the gums. The traditional denture is molded to fit snugly over an individual patient's alveolar jaw ridges, which once supported the former natural teeth. The denture stays in place primarily through a suction effect between the denture and the ridges.
Modern technology, though, has greatly improved today's dentures. Digital imaging can be used to generate highly accurate impressions of the dental ridges that can lead to denture bases with better fit. Dentists using photographs of the patient, especially in earlier years, are better able to identify facial landmarks, which enables them to position the new teeth to more closely recreate the patient's former smile.
These technological aids now help dentists to create more attractive dentures with better support and comfort. But the fit that makes this possible may not last due to a particular weakness inherent in traditional dentures—continuing bone loss. When teeth are missing, the underlying jawbone can lose bone volume over time. Dentures don't stop this process and can accelerate it due to constant friction and pressure on the dental ridges.
But a new modification incorporating dental implants with dentures can help solve these problems. By placing a few strategically positioned implants in the jawbone that then connect with the denture, the appliance not only gains more stability, but also produces less pressure on the dental ridges. In addition, bone cells naturally grow and adhere to the titanium implant posts, which helps to stop or slow bone loss.
If you've experienced total tooth loss, dentures are an affordable and effective option. Thanks to modern dental advances, you can get back the smile and dental function you once lost.
If you would like more information on denture restorations, please contact us or schedule an appointment for a consultation. You can also learn more about this topic by reading the Dear Doctor magazine article "Removable Full Dentures."
By Smile By Stone
December 09, 2020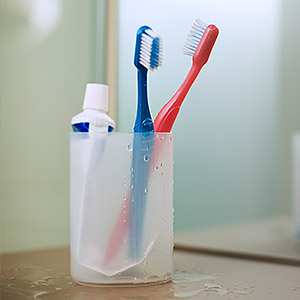 After years of research, we're confident in saying that brushing and flossing daily are essential for maintaining a healthy mouth. A mere five minutes a day performing these tasks will significantly lower your risk of dental disease.
We're also sure about the essentials you'll need to perform these tasks: a soft-bristled toothbrush using fluoride toothpaste, and a roll (or picks) of dental floss. The only deviation might be a water flosser appliance instead of flossing thread.
Unfortunately, some folks deviate even more from the norm for both of these tasks. One of the strangest is a social media trend substituting regular toothpaste with substances containing activated charcoal. The proponents of brushing with charcoal claim it will help whiten teeth and kill harmful microorganisms. People brushing with a black, tarry substance also seem to make for good "gross-out" videos.
There's no substantial evidence to support these claims. Perhaps proponents of charcoal's whitening ability are assuming it can remove stains based on its natural abrasiveness. It could, however, remove more than that: Used over time, charcoal could wear down the protective enamel coating on your teeth. If that happens, your teeth will be more yellow and at much greater risk for tooth decay.
When it comes to flossing (or more precisely, removing food material from between teeth), people can be highly inventive, substituting what might be at hand for dental floss. In a recent survey, a thousand adults were asked if they had ever used household items to clean between their teeth and what kind. Eighty percent said they had, using among other things twigs, nails (the finger or toe variety) and screwdrivers.
Such items aren't meant for dental use and can harm tooth surfaces and gum tissues. Those around you, especially at the dinner table, might also find their use off-putting. Instead, use items approved by the American Dental Association like floss, floss picks or toothpicks. Some of these items are small enough to carry with you for the occasional social "emergency."
Brushing and flossing can absolutely make a difference keeping your teeth and gums healthy. But the real benefit comes when you perform these tasks correctly—and use the right products for the job.
If you would like more information on best oral hygiene practices, please contact us or schedule an appointment for a consultation.