Posts for: May, 2022
By Smile By Stone
May 17, 2022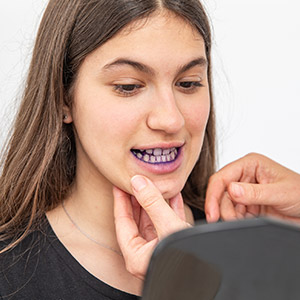 One of the toughest enemies your teeth face is dental plaque, a thin film of bacteria and food particles. Accumulated dental plaque can trigger both tooth decay and periodontal (gum) disease, which is why removing it is the true raison d'etre for daily brushing and flossing.
But if you do indeed brush and floss every day, how well are you fulfilling this prime objective? The fact is, even if your teeth feel smooth and clean, there could still be missed plaque lurking around, ultimately hardening into tartar—and just as triggering for disease.
The best evaluation of your brushing and flossing efforts may come at your semi-annual dental cleanings. After thoroughly removing any residual plaque and tartar, your dentist or hygienist can give you a fairly accurate assessment of how effective you've been doing in the plaque removal business.
There's also another way you can evaluate your plaque removal ability between dental visits. By using a plaque disclosing agent, you can actually see the plaque you're missing—otherwise camouflaged against your natural tooth color.
These products, usually tablets, swabs or liquid solutions available over-the-counter, contain a dye that reacts to bacterial plaque. After brushing and flossing as usual, you apply the agent to your teeth and gums per the product's instructions. After spitting out any remaining solution, you examine your teeth in the mirror.
The dye will react to any residual plaque or tartar, coloring it a bright hue like pink or orange in contrast to your normal tooth color. You can see the plaque, and perhaps even patterns that can show how you've missed it. For example, if you see brightly colored scallop shapes around the gum line, that's telling you you're not adequately working your toothbrush into those areas.
The dye eventually fades from the teeth in a few hours, or you can brush it away (and fully remove the plaque it disclosed). Although it's safe, you should avoid ingesting it or getting it on your clothes.
Regularly using a disclosing agent can give you excellent feedback for improving your hygiene techniques. Getting better at brushing and flossing will further reduce your risk for dental disease.
If you would like more information on daily plaque removal, please contact us or schedule an appointment for a consultation. You can also learn more about this topic by reading the Dear Doctor magazine article "Plaque Disclosing Agents."
By Smile By Stone
May 07, 2022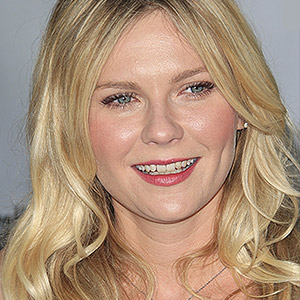 Up and coming performers are often pressured by their handlers to change their appearance, and many have over-the-top stories to prove it. But they'd be hard pressed to outdo Kirsten Dunst's experience just before filming 2002's Spider-Man: Producers actually drove her to a dentist for her to get what they considered a more attractive "Hollywood" smile.
Dunst didn't get out of the car: Although a 19 year-old newbie in the business, Dunst had enough fortitude to hold fast about her appearance. And perhaps she had a bit of intuition about what she calls her "snaggle fangs": Her quirky smile is one of her appearance trademarks.
The lesson here is not to avoid any cosmetic dental changes, but rather to choose the smile you want. If you count your slight front tooth gap or the faint crookedness of your teeth as unique to your personality, then rock on.
On the other hand, if you're uncomfortable with your dental flaws, then there are numerous ways to upgrade your smile, from a simple whitening procedure to a comprehensive "smile makeover." You simply have to decide what you want to keep and what you want to change about your smile.
To help guide you along this potentially life-changing journey, here are few key tips to follow.
Find your "right" dentist. If you're going to change your smile, you need a partner—a dentist who is not only skilled in cosmetic techniques, but with whom you feel comfortable. One of the best ways to do this is to make note of smile changes your friends and family have undergone that you find attractive, and ask who did their dental work.
Dream a little. Finding the right dentist is important for the next step: Exploring the possibilities for a new and improved smile. After assessing your current smile, your skilled dentist can give you a range of options to improve it. And, to actually help you "see" how those options might turn out, "virtual smile" technology can show you the proposed changes applied to an actual photo of you on a computer monitor.
Match it to reality. Once you're aware of all the possibilities, it's time to narrow them down to what you really desire. At this point, you'll want to decide what "quirks" you want to keep, and what you want to improve. You'll also have to consider your overall dental health and financial wherewithal to see what's truly practical and doable.
With that in mind, you and your dentist can then formulate a treatment plan. And just like Kristen Dunst, the end result should be the smile that makes you happy and confident to show.
If you would like more information about to get the best smile for you, please contact us or schedule a consultation. To learn more, read the Dear Doctor magazine article "Cosmetic Dentistry: Fix Your Smile With Veneers, Whitening and More."