By Smile By Stone
May 27, 2022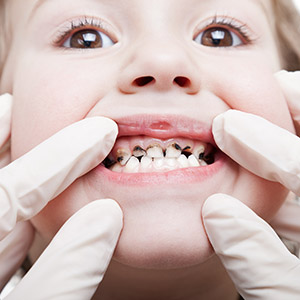 Primary ("baby") teeth may look cute and adorable, but they're a big player in your child's dental health. A primary tooth lost prematurely could eventually lead to a major bite problem.
Primary teeth fulfill a number of functions, most notably enabling young children to eat solid foods, speak and relate to people with a normal smile. But they also serve as placeholders and guides for future permanent teeth developing within the gums.
Problems arise, though, when a child loses a primary tooth early due to disease or trauma, leaving an open space on the jaw. Nearby teeth tend to drift in to fill the space intended for the permanent tooth, leaving little to no room for it when it's time to erupt. This can cause it to erupt out of position, which in turn could force other teeth out of alignment. The end result is a poor bite.
You can, however, avoid this costly outcome by either treating and preserving a decayed baby tooth, or preventing other teeth from drifting into a vacancy left by a lost primary tooth until the permanent tooth comes in.
Depending on the level of decay, treating a diseased primary tooth can include fillings, crowns or modified root canal therapy. For children at high risk for decay, a dentist may also apply sealant to the teeth to inhibit plaque buildup. Although some of these procedures can be extensive, they're often worth the time and effort to prevent a poor bite.
If, on the other hand, we eventually lose the tooth, we can still intervene by installing a space maintainer. This is essentially a loop of wire securely attached to a tooth on one side of a gap, while the other end of the loop butts up against the tooth on the other side. This prevents either tooth from migrating into the space until the permanent tooth is ready to come in.
Primary teeth may not seem all that important, but in the greater picture, they truly are. By taking care of them, you'll be doing your child's soon arriving permanent teeth a favor.
If you would like more information on pediatric dental care, please contact us or schedule an appointment for a consultation. You can also learn more about this topic by reading the Dear Doctor magazine article "Importance of Baby Teeth."