Posts for tag: Crowns
By Smile By Stone
November 08, 2021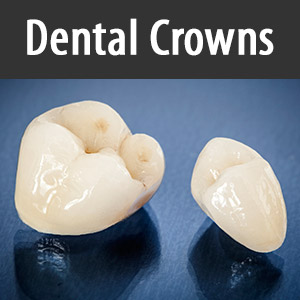 In the realm of dental restorations, not all crowns are alike. And, one type isn't necessarily superior to the others. One type of crown may work better for a particular tooth, while a different crown is better suited to another.
Therefore, knowing your options can help you make a more informed choice with your dentist regarding the best crown for your needs. Here, then, is a quick primer on the main types of dental crowns used today.
Metal crowns. Early in the last century, crowns made of gold, silver or other metals were the go-to dental restoration. Because of their strength and durability, metal crowns are still used today, mainly in back teeth that encounter heavy biting forces. Their drawback: They're decidedly not the color of natural teeth and so can stand out if they're placed in the visible "smile zone."
PFM crowns. The first crowns made with dental porcelain solved the appearance problem, but couldn't adequately handle biting forces as well as metal. Out of this came the porcelain fused to metal (PFM) crown, which contains an inner core of metal overlaid with tooth-colored porcelain. Providing both strength and life-likeness, PFM crowns were immensely popular until the mid-2000s.
All-Ceramic crowns. The development of porcelains more durable than earlier versions eventually dethroned the PFM (although the latter is still used today). Sixty percent of the crowns installed in recent years are all-ceramic, many reinforced with a strength material known as Lucite. Many all-ceramic crowns reaching the 15-year mark are still in place and functioning.
All of these crowns continue to be viable options for dental patients. The biggest factor in choosing one particular crown over another is the type of tooth involved and its location. As mentioned before, metal or PFM crowns are usually better for back teeth where durability is a higher priority than aesthetics. All-ceramics work well in high-visibility front teeth that normally encounter lighter biting forces than back teeth.
Regardless of which kind eventually caps your tooth, any of today's modern crowns will function as intended. But the best crown for you will be the one that both protects your tooth and enhances your smile.
If you would like more information on dental crown restorations, please contact us or schedule an appointment for a consultation. You can also learn more about this topic by reading the Dear Doctor magazine article "Porcelain Dental Crowns."
By Smile By Stone
June 14, 2021
Dental crowns from your dentist in Lansing, MI, can strengthen your smile.
Teeth are strong, but they can be damaged. Severe dental decay, accidents, injuries, and other causes can all work to weaken and destroy tooth structure. Fortunately, you can restore both the strength and beauty of your teeth and your smile with dental crowns!
Dr. Scott Stone of Smiles by Stone in Lansing, MI, offers comprehensive dental care options, including dental crowns to strengthen your smile.
When you restore your smile with dental crowns you will enjoy:
Increased strength to withstand the chewing and biting pressures when you eat
Increased tooth surface area to provide better chewing ability, which can help digestion and your overall health
Increased protection from tooth breakage or losing tooth structure
Unlike large fillings which can actually weaken your teeth, dental crowns provide superb protection because they cover the entire visible surfaces of your teeth above the gumline. When you bite down on a dental crown, the biting pressure is spread out evenly, so there is far less chance of breaking the tooth structure.
A stronger smile isn't the only benefit of restoring your smile with dental crowns. When you restore your smile with dental crowns, you will also enjoy:
A more beautiful, natural-looking smile because porcelain crowns reflect light, just like natural tooth enamel
Greater self-confidence because you will have a beautiful smile to show to the world
Restoring your smile with dental crowns is one of the best decisions you will ever make. Dental crowns can provide decades of strength and beauty for your smile.
To learn more about the benefits of dental crowns and how they can strengthen your smile, call Dr. Stone of Smiles by Stone in Lansing, MI, at (517) 482-5546 now!
By Smile By Stone
September 22, 2020
Get the answers you need to make the right decisions to improve your smile. Dr. Scott Stone of Smile by Stone is happy to answer any questions you may have about getting crowns, bridges, or both installed in the Lansing, MI, area.
FAQs about crowns and bridges from your Lansing dentist
Why do I need a crown?
Perhaps your tooth was severely cracked or decayed. You may have already had a crown placed before, but it is time to get a new one.
Will others be able to detect my dental work?
Today's cosmetic dentistry has incorporated new techniques and tools to bring patients the most natural smile possible. Most individuals would not be able to tell you had dental work unless you told them.
How do I take care of my crowns and bridges?
Crowns and bridges are relatively simple to maintain. Once these are on the natural teeth, patients can conduct their daily oral health routine as usual.
How long do dental crowns and bridges last?
Crowns and bridges from your Lansing dentist last between 5 and 15 years if well maintained.
What is the proper maintenance of a crown or a bridge?
Dental work like crowns and bridges do not generally need more than usual oral hygiene, that is, brushing and flossing twice a day.
What should I do if I have a problem with my crown or bridge?
If you are experiencing complications with your newly installed crown or bridge, do not hesitate to see your dentist. He or she will be able to assist you in deciding what to do next.
Why does my crown show a dark line?
Some crowns are porcelain fused to metal, and the metal shows underneath the top layer. The appearance of this metal will not change the function of dental work in any way.
Have more questions? If you are in the Lansing, MI, area, visit Dr. Scott Stone at his practice, Smile by Stone. Contact (517) 482-5546 today to schedule a consultation.