Dental Implants in Lansing, MI
If you have lost one or more teeth, dental implants provide an excellent anchor for the restorations placed at our Lansing practice.Dr. Scott Stone refers his patients to an exceptional specialist to place your implants; he can then restore them with crowns, bridges, and dentures of exceptional appearance and quality. Dental implants are titanium posts that are surgically placed in the jaw bone, taking the place of tooth roots. Our patients receive Biohorizons® implants, which carry a lifetime warranty. Though they require at least two surgeries and several months of healing time, they can provide you with a lifetime of confident, dazzling smiles.
The combination of dental implants and custom restorations is where dentistry has made considerable leaps and bounds in recent years, because it provides exceptional function and a beautiful, natural-looking appearance. To learn more about Dr. Stone's restoration of dental implants, contact our Lansing office serving East Lansing, Holt, and Okemos/Haslett today.
The Advantages of Dental Implants
Dental implants provide a wealth of advantages for anyone missing teeth. In the absence of tooth roots, your body will naturally begin to reabsorb bone cells in the jaw, causing it to become weakened. However, your body perceives dental implants as roots, which halts this process and helps you to preserve strength in your jaw. Denture wearers find that dental implants eliminate the chances of slippage while speaking and eating, and are far superior to relying on a mild adhesive to secure dentures to the gums. A patient in need of a bridge may prefer to use a dental implant as an anchor if they do not wish to have two adjacent teeth altered to accommodate crowns. The surest way to determine if implants are right for you is to contact and schedule a consultation in Dr. Stone's Lansing office.
Placing Dental Implants
If you and Dr. Stone determine that dental implants are the right solution for you, he will refer you to a trusted specialist who will handle the required surgeries. During your initial surgery, an incision is made in the gum, exposing the jaw bone. A pilot hole is drilled into the bone, and the threaded implant is inserted. Finally, the gum is stitched closed over the top of the implant. Over the next three to six months, new bone cells will grow around the implant, securing it in your jaw. During your second surgery, another incision is made in the gums to expose the implant, which will be fitted with a special abutment. The abutment will foster the healing of the gum around the implant, and serve as the point of connection with your crown, bridge, or dentures.
Tooth Replacement Options Using Dental Implants
Implants can replace missing teeth in a variety of ways. They can be used to: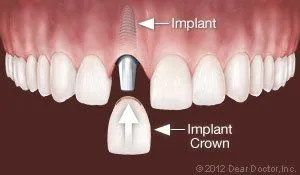 Replace One Tooth — When you have one tooth missing, a single implant is inserted into the bone to replace the root part of that tooth; a crown then goes on top to simulate an actual tooth. This treatment choice has the highest success rate, making it the best long-term investment for replacing a single missing tooth. Even if the initial cost is slightly higher than other options, it is the most cost-effective solution over time. An implant will never decay or need root canal treatment, and feels just like the tooth that was there.
Replace Multiple Teeth — When you have more than one tooth missing, implants provide an ideal replacement mechanism. You don't even need one implant for every missing tooth. Instead, implant teeth can act as supports for fixed bridgework. For example, if you are missing three teeth in a row, we can place two implants, one on either side of the gap, and a crown in between that has no implant underneath. That way, you won't need to use any of your remaining natural teeth as bridge supports, which could weaken them and make them more susceptible to decay.
Replace All Teeth Permanently — Implants can support an entire arch of upper or lower replacement teeth that are fixed into the mouth and are never removed. Sometimes the new teeth can be supported by as few as 4 implants. It's comparable to the structure of a table, which only needs 4 legs to hold it up. In cases where jawbone density and volume have deteriorated, 5 or 6 implants might be needed to support a row of 10 to 12 teeth. Dental implant replacement teeth protect your jawbone, won't slip, and should last a lifetime.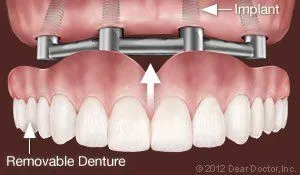 Support Removable Dentures — Implants can even make removable dentures more comfortable, effective and healthier to wear. Traditional dentures rest on the gums and put pressure on the underlying bone. This accelerates bone loss so that the jaw shrinks and the dentures slip, particularly on the bottom. But today dentists can attach a removable denture onto implants, transferring that pressure into the bone structure rather than the bone surface. This prevents the dentures from slipping while you eat and speak, and preserves the bone directly beneath them.
Restoring Dental Implants
Following placement of your implants, you will return to Dr. Stone's office, where a digital impression will be made of your implant and any adjacent teeth. This impression will be sent to an offsite laboratory, where your custom restoration will be created using the material of your choice. Dr. Stone offers Emax crowns, bridges, and dentures, as well as those made from zirconium. Both provide incredible strength comparable to metal, as well as an astonishingly realistic appearance.
Mariel
Mariel's case was also a very fun and interesting case to work with. Mariel had peg (pointed) laterals and missing canine teeth. Implants were placed in the canine position with zirconium abutments and all porcelain crown. We placed laminates on her peg laterals. The ceramist did a phenomenal job matching the shade and characteristics to match her two front teeth.
---
Emily
Emily had braces but unfortunately, not enough room was available for implants. We placed an all ceramic four unit bridge to replace the missing lateral teeth.
If you are interested in learning about dental implants, contact our Lansing, MI office to schedule a one-on-one appointment with Dr. Stone. Call (517) 482-5546 today!