Before and After Dental Photos - Smile Makeovers Lansing, MI
Smile Gallery – Dr. Scott Stone Lansing Dentist
Brad
We achieved an amazing result with deep bleaching and simple bonding. This case is an excellent example of inexpensive, conservative dentistry. Not everyone has to have expensive treatment to have a beautiful smile.
---
Nicole
Nicole is another example of conservative dentistry. With deep bleaching and replacement of poorly placed composite bonding we can achieve an amazing result.
---
Melody
Melody had crooked and small teeth. Adult orthodontics, deep bleaching and simple bonding to fill in gaps between the smaller teeth were done. What an amazing result! I feel in dentistry today we can do just about anything!
---
Jorge
Jorge sang in his church choir and felt his smile was distracting. Jorge's case was quite fun. We had to slightly modified some of his teeth to make room. So that his teeth in his new bridge are properly sized. We used a very esthetic all-ceramic zirconia bridge. Jorge is very pleased with his new smile.
---
Patty
Patty had a very dark and misshapen anterior bridge that we replaced. Now she gets complements all the time on her beautiful bright smile. We deep bleached her teeth then did a six unit bridge.
---
Kim
Again, what an amazing result with just deep bleaching and simple bonding of one tooth.
---
Kathy
Kathy had very crooked teeth. We deep bleached which allowed us to limit the laminates to the front six teeth while saving money and achieve a beautiful smile.
---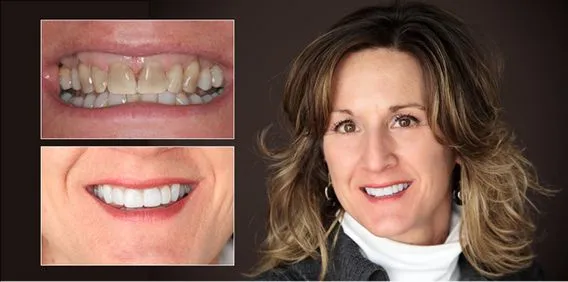 Maridean
Maridean had tetracycline stained teeth. She had very poorly done composite laminates done. We uncovered them and realized bleaching could not be 100% successful. She could not afford ceramic laminates so we redid the composite veneers in one appointment, and look at the difference. She is so happy with her new smile.
---
Chris
Chris had two darker teeth which gave him the popcorn look. We deep bleached his teeth and then did laminates on the two darker teeth. Deep bleaching makes this case much easier and better. We placed laminated on only two teeth to achieve a great result.
---
Jan
Did not like the spacing between her teeth and instead of aggressively cutting down her teeth for laminates, we deep bleached her teeth and did some simple composites. Bonding in one appointment! Much less expensive and no drilling or shots.
---
Deb
Deb had short worn down teeth giving her an older look. We did six laminates and gave her a much younger looking smile and appearance.
---
Emily
Emily had braces but unfortunately, not enough room was available for implants. We placed an all ceramic four unit bridge to replace the missing lateral teeth.
---
Jessie
Jessie is a very pretty woman who unfortunately had a very ugly and poorly done anterior bridge. We did a simple four unit anterior bridge. Jessie's self-confidence soared with her new smile!
---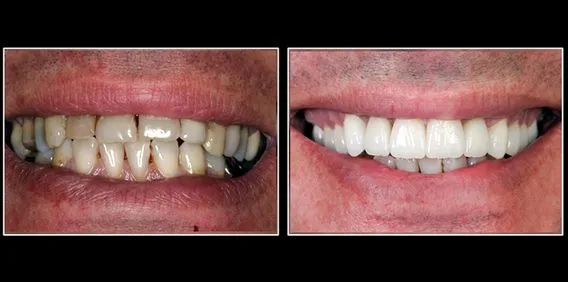 John
John's case presented with a great deal of failing dentistry. He had forgotten how to smile, when asked to smile in his before picture this was the biggest we could get him to smile. Now his smile is contagious.
---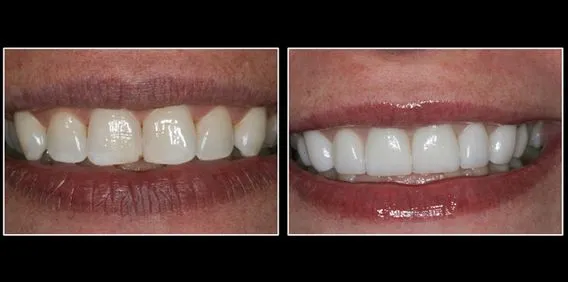 Justyna
Justyna did not like that her two front teeth tipped in and were worn. She wanted flatter teeth initially. We were able to meet her desires and lighten the color of her teeth too.
---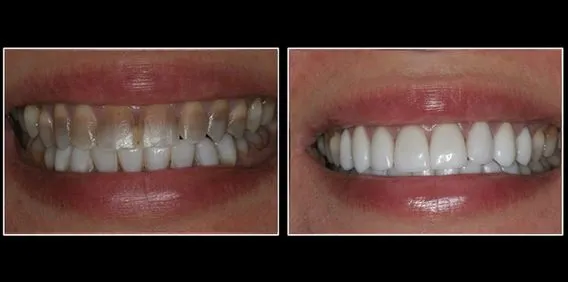 Kahn
Kahn had severe tetracycline staining. We did porcelain veneers on the upper teeth and composite veneers on the lower teeth. This gave her a wonderful smile and her husband loves them.
---
Mariel
Mariel's case was also a very fun and interesting case to work with. Mariel had peg (pointed) laterals and missing canine teeth. Implants were placed in the canine position with zirconium abutments and all porcelain crown. We placed laminates on her peg laterals. The ceramist did a phenomenal job matching the shade and characteristics to match her two front teeth.
---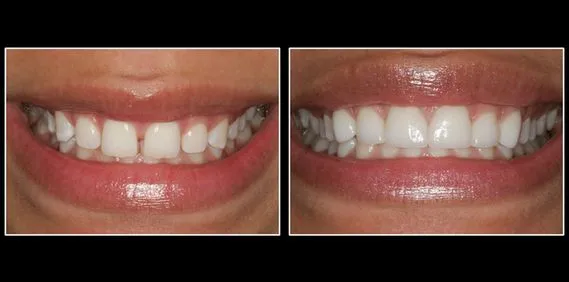 Parios
Parios had very small teeth which were tipped lingually back. We place six laminates and her smile looks fantastic.
---
Renee
Renee unfortunately, had to have three of her anterior Teeth extracted due to trauma from a car accident. We Deep Bleached and completed a 6 unit bridge.
---