Porcelain Veneers in Lansing, MI
Sometimes, the entire appearance of a smile can be disrupted by a minor imperfection such as a crack, chip, or slight misalignment. Fortunately, Dr. Scott Stone offers porcelain veneers at his Lansing office, which can conceal these imperfections and enhance the appearance of your entire smile. Often called "instant orthodontics," these thin porcelain shells are custom-crafted to attach to the front surfaces of your teeth. A single porcelain veneer can brighten up your face, making you look younger and more vibrant, and providing you with renewed confidence in your smile. We offer Emax veneers, made from a single block of lithium disilicate ceramic. Emax veneers are exceptionally strong, with a natural, slightly translucent appearance. If you are interested in porcelain veneers, contact our Lansing office serving East Lansing, Okemos, Haslett and Holt to schedule a one-on-one consultation. Dr. Stone will listen closely to your hopes and goals to create your treatment plan.
Placing Porcelain Veneers
The process of placing porcelain veneers requires two visits to our office. During your first visit, the teeth you wish to treat will be prepared. This involves removing a small portion of the enamel from the tooth's front surface, equal approximately to the thickness of an egg shell. Next, Dr. Stone will take a digital impression of the tooth and adjacent teeth, which will be transmitted to an offsite laboratory, where technicians will craft your custom veneer. After about two weeks, you can return to our office to have your new veneers placed. If needed, Dr. Stone will make fine adjustments to ensure an ideal fit. Finally, a strong dental adhesive will be applied to your tooth, and Dr. Stone will place the veneer, using a special curing light to expedite the bonding process. Once this process is complete, you can leave our office with a beautiful new smile that will complement your entire appearance.
Living with Porcelain Veneers
Veneers can have a truly profound effect on the appearance of your smile and face, as well as your self-esteem. Dr. Stone says when patients first see their enhanced smiles in the mirror, it can be an emotional and life-changing experience. With proper care, you can expect to enjoy many years of dazzling, confident smiles. It is important to note that although veneers are durable, they can become damaged under repeated undue stress. To ensure that you experience the greatest possible benefits from your veneers, you should maintain a regular routine of brushing, flossing, and checkups by Dr. Stone. You should also avoid habits such as biting fingernails and pen caps, and avoid foods that are especially sticky or hard.
Learn More about Porcelain Veneers
If small inconsistencies in your smile make you feel self-conscious, porcelain veneers placed at our Lansing practice may be an excellent solution for you. Dr. Stone will listen closely to your goals and concerns, and work with you to create veneers that will help you feel confidence and pride in your smile. Please contact us today to schedule a consultation.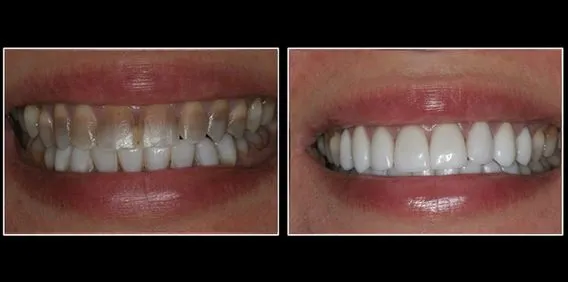 Kahn
Kahn had severe tetracycline staining. We did porcelain veneers on the upper teeth and composite veneers on the lower teeth. This gave her a wonderful smile and her husband loves them.
If you think porcelain veneers may be right for you, call Smile by Stone
in Lansing, MI today! Call (517) 482-5546 to make an appointment.